Riding école
Notre personnel professionnel et amical donner des leçons aux débutants et avancés, from children as young as 2yrs up to and including Adults and are taught by a selection of fully qualified experienced instructors with First aid, Child protection, Garda Vetting and Riding and Road safety on various days of the week.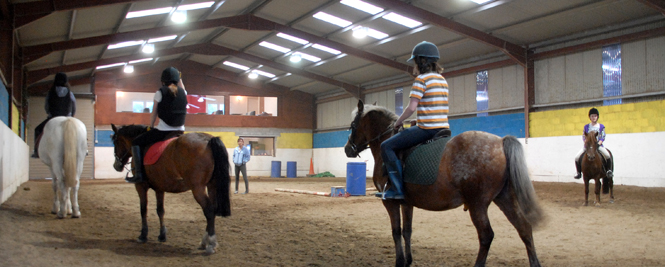 Centre équestre de Roscommon, was the first approved equestrian centre in Ireland by Failte Ireland Equestrian Tourism and is also approved by AIRE – the Association of Irish Riding Establishments since 2003 which have an extensive screening process to ensure the highest standards of teaching, qualifications, safety, facilities, first aid, insurance and child protection is in place. So you can be assured you are in safe hands.
We offer a huge range of options from ½ hr and 1 hour classes for all ages and standards (we can provide use of riding school hats) from one on one private lessons, semi private lesson (2no People), Group lessons (Max 7/8no) or school and company days out.
Nous accueillons également pour les cavaliers handicapés et ayant des besoins spéciaux. We regularly hold seasonal Show Jumping leagues and events including our annual Schools Competition plus Mid-Term, Pâques, Summer & Christmas pony camps for all ages (Over 7yrs).
Remarque:
All riders must wear suitable riding footwear with a heal and riding hats must meet PAS 015 or VG 1 normes et nous recommandons fortement à tous les coureurs de porter un protecteur du corps
**HORSE RIDING IS A RISK SPORT – WE ADVISE YOU TO TAKE OUT FULL PERSONAL ACCIDENT COVER**
For bookings    Click Here – Online Entries
For information call 086 327 0984 ou par courriel: roscommonequestrian@gmail.com